In game, there are 5 Types of Equip. Standard, Superb , Rare, Epic, and Uniques. Each item have requiments.
Standard items is easy to find. They are with the most low Defense and Attack.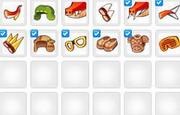 Superb's are a little bit hard to find. Good Defense and Attack.
Rare its a kind of verry good item. Its hard to find. Verry Good Defense and Attack!
Epic's are almost good item of Equip Types. Yo, you can find this only in Dungeons. Awesome with Defense and Attack, you know?
Huh? You can only find this in Ultimate Dungeon on Aroumian Town. The king of Equip Types. Only level 40 can wear this, beacuse its special.